Monster Waves... Tricky Lighting... Astounding risk... Timeless Photographs.
"The Shorebreak Art of Clark Little"
is nothing short of epic. Getting inside, over and under 30-40 foot waves is no small feat, especially with bulky
camera equipment
, and a goal of finding that perfect angle and lighting condition that makes a perfect shot.
Clark Little is pretty well known today as the foremost shorebreak art
photographer
(his art has been seen on "Good Morning America", and featured in a number of glossy magazines all over the world). But as much as we like the fantastic shots of various
wave
' innards, we are even more impressed to see him pitched against dangerous, massive amounts of water - violent waves, where you only have a moment to make that shot and to get out of the harm's way.
With exclusive permission of Clark Little Photography we publish today the rarely-seen photographs of Clark Little heading with his camera into...
Into the Vortex!
Encounter with a Wave (almost alien-like in intensity, if you ask me):
The Result: Out of This World
A glorious, almost Mandelbrot-like complexity is simply striking in this "Glitter" photograph (our favorite):
Unusual, over-saturated colors show up inside crystal clear waves, reflecting kaleidoscopic world around them:
There is also a place for pure abstraction, even psychedelic touches:
This image is titled "The Twelve Disciples" - see if you can spot some faces inside that wave, too:
Here is perhaps his most famous image: the wave's "mohawk", an amazingly colorful splash, featured recently inside National Geographic magazine:
Another
singular
splash:
Inside the belly of the beast: "The Twister" photograph shows what a violent wave is made of -
Even in the absence of killer monster waves, the shorebreak art can look slightly alien... Here is the little "Frosty" guy: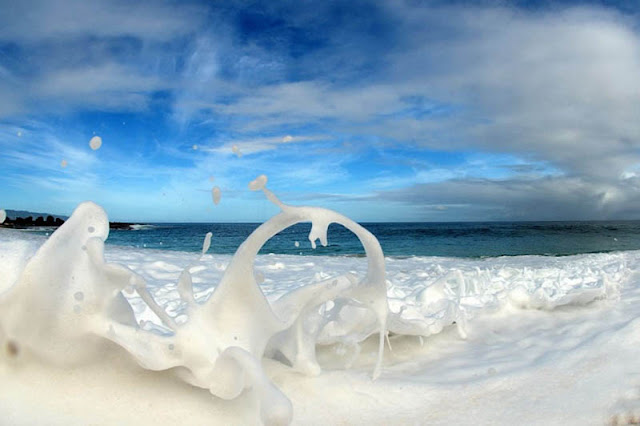 The Book! The Ultimate Spectacular Photo Book!
Can't get the
computer screen
wide enough and HD TV capable enough to give justice to Clark Little's slices of glorious wave eye-candy? Well, now you can order his book, a
coffee
table-sized huge book, in fact arguably a "mother of all coffee table books": 182 pages, over 100 photographs, 12x12 size, weighing close to 7 pounds.